Welcome to the Sub-Universe Wiki!
Welcome to the Sub-Universe Wiki. We're a collaborative FANDOM encyclopedia about everything far below our Universe: quantum particles, cosmological objects, hypothetical entities, geometry, etc. Anyone who is logged in can edit. Note that many pages on this wikia are non-confirmed and were created as an extension of string theory or as science fiction. These are categorized under Hypothetical.
We also have a few factual pages about the larger-scale universe too, such as Star or Preon. All new users are required to read the rules, but if you don't follow them page deletion and even temporary blocking may happen. Please help edit and expand the hierarchy here!
If you're coming from another wiki hosted on Fandom, we are currently using a new "UCP" editor and interface that's still in beta, so please get used to the new interface and report any bugs you come across.
Stats
We have 1,237 edits and 90 pages!
Rules
Please do not create spam/vandalistic pages that take up the server data and are an eyesore to read. This also includes rude edits to other pages and walls.
No off-topic pages. This means no post-multiverse objects, and nothing that isn't vaguely related to astronomy, (quantum) physics or biology.
No number/archverse pages if they can go on for a very long time. For example, creating a set of pages "Oneverse" to "Tenverse" and then starting another chain would be OK, but endlessly creating a chain of "Oneverse" type articles would not since there will be no non-numberverses after that (unless you leave gaps between them).
No inappropriate pages.
No violation of Fandom's Terms of Uses.
Violation of any rule will result in consequences ranging from a warning message on your wall to a long block, to even a global ban by FANDOM if they deem it too extreme, depending on the severity of the situation.
Affiliated wikis
You might want to check out the closely-related wikis such as All Dimensions, Beyond Universe (now dead), Verses and Dimensions, Ultimas Cosmology, and Fuzzo's cosmology wiki which cover similar topics, but focus on larger objects which may be beyond the observable universe.
Important articles
Need help building out this community?
You can also be part of the larger Fandom family of communities. Visit Fandom's Community Central!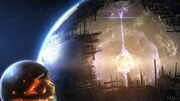 Community content is available under
CC-BY-SA
unless otherwise noted.